Contacting NoiseMeters Inc
Please feel free to contact NoiseMeters by telephone, email or fax. All contact is covered by our Privacy Statement.
Head Office
NoiseMeters, Inc.
3233 Coolidge Hwy
Berkley
MI 48072
USA
Texas Warehouse
NoiseMeters, Inc.
1321 Upland Drive, #2174
Houston
TX 77043
USA
---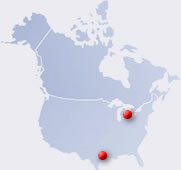 NoiseMeters, Inc. - United States and Canada
From our head office in Berkley, Michigan and from warehouse facilities in Houston, Texas, we supply sound level meters and noise dosimeters throughout the USA and Canada.
There are many rules and regulations surrounding the use of noise monitoring equipment. If you are unsure of what you need then please call or drop us an email, we hare happy to share our knowledge and experience in the world of sound level measurement and noise control.
Registered Offices:
United States of America: NoiseMeters, Inc., registered in Houston, TX.
United Kingdom: NoiseMeters Limited, registered in England 04806617
noisemeters.tel - usa.noisemeters.tel - uk.noisemeters.tel - europe.noisemeters.tel - asia.noisemeters.tel - export.noisemeters.tel