Rental of Environmental Noise Monitor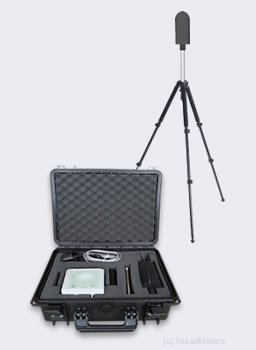 The EM2010 is a Type 1 environmental noise monitor for the medium and long term monitoring of sound levels. It is quick and easy to install, just needing power and a connection to the cell network.
Environmental Noise Monitor
Weatherproof
Audio Recording
Meter features:
Web Based Reporting
Cell Phone Network Connection
SMS and Email Alerts
Rental Kit Includes:
EM2010 Environmental Noise Processor
Outdoor Microphone
Weatherproof Case
Availability and Booking
Start Date

Rental Period

Rental Price Includes
Delivery to your premises
Shipping outside the rental period

If you book the equipment for seven days then you have it on site for seven full days.

If your rental starts on a Monday then we will ship the equipment to arrive on the Friday before the weekend.

Technical support and advice
Transit insurance

We cover any loss or damage to the rental equipment while we ship it to your premises and the same on return if we arrange the collection.
Info
Applications
Using It
Specifications
Overview
The EM2010 Environmental Noise Monitor consists of an Outdoor Microphone, an acoustic processing unit, and a power supply. It can be connected up in minutes - just connect the microphone and power supply to the processor and away it goes. The unit will automatically measure the periodic Leq and L90 along with many other parameters, storing the results internally and uploading them to the web server every five minutes. The EM2010 can be set to record the audio when preset conditions are met. Listening to the audio is the best way to identify the source of high noise levels.
The noise reports are viewed by logging in to a web site and selecting the days of interest. The results can be viewed in a tabular or graphical format, or you can download them to Excel (or similar spreadsheet program) and create your own reports.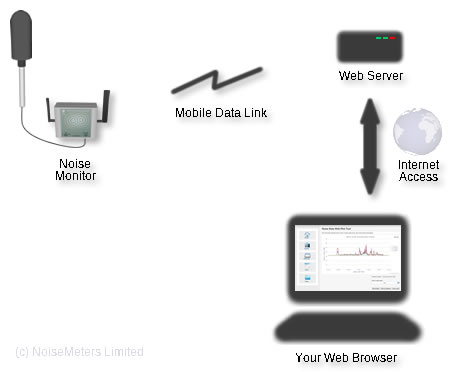 Environmental Noise Surveys
The EM2010 is for monitoring environmental noise, generally around industrial areas and in communities. It is ideal for any noise monitoring applications that demand a unit that meets IEC 61672 Class 1 or ANSI S1.4 Type 1 and require access to the noise measurements through a standard web browser.
Environmental noise surveys
Boundary noise monitoring
Mixed commercial and residential sites
Construction and demolition sites
Positive noise source identification with audio recording
Setting Up
The EM2010 Noise Monitor comes with the GSM link (connection to cell network) already operating. All you need to do is position the monitor and apply power. The whole kit, including the microphone, is protected against poor weather conditions and rain.
Reporting
As the noise monitor uploads all its measurements to a web server, you just need a standard web browser and access to the Internet to view the reports.
Standards
IEC61672 Class 1, ANSI S1.4 Type 1
Frequency Weighting
A and C Weighting
Frequency Range
20 Hz to 20 kHz
Dynamic Range
33 to 121 dB
Parameters
Leq, L5, L10, L50, L90, L95, Lmax
Periods
1, 5, 10, 15 or 30 minutes
Data Storage
1 year with 5 minute logging
Web Storage
2 GB included
Communications
HSPA / UMTS (3G), WiFi 802.11 b/g