Noise Warning Sign - SoundEar Classic
SoundEar Classic
Music Noise Monitoring
Music from clubs, discos and even restaurants and hotels can cause problems for local residents and be at dangerous levels for staff. The SoundEar Noise Warning Sign is the perfect solution to keeping control of the noise and monitoring the effectiveness of controls.
Club, disco, nightclub and restaurant noise monitoring
Protect bar and club staff from dangerous noise levels
Avoid noise complaints from residents
Inform DJ or live band when the levels are too high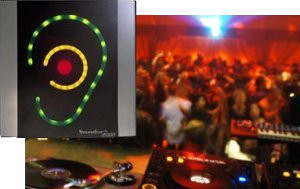 One of the major problems of controlling noise levels in clubs is that of human perception. If the music is to somebody's taste it will not sound so annoying as to whom it is not.
On top of this, after just a short time being exposed to high levels the ear becomes less sensitive so it is very difficult to decide whether the level is too high without the use of a noise level measuring device such as the SoundEar.
The SoundEar Noise Warning Sign can be set to light first the yellow and then the red lights when the noise level is above the set limit. See the SoundEar web page for more information on the sign itself.
The SoundEar is mounted on the wall using a single screw and plugs into the power using the adapter provided. It is very quick and easy to install.