EM2010 Wireless Environmental Noise Monitor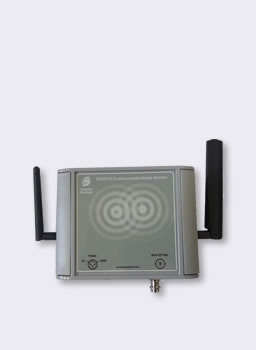 EM2010 Wireless Noise Monitor
Specifications
| | |
| --- | --- |
| Standards | IEC 61672 Class 2 and ANSI S1.4 Type 2. |
| | (Class 1 / Type 1 option available) |
| | |
| Mic. Sensitivity | 50mV/pa |
| Mic. Power Supply | Constant current ICP supply, 18V 4mA |
| Mic. Connection | BNC Male to SMB Jack |
| | |
| Frequency Weighting | A-weighting and C-weighting |
| Frequency Range | 20 Hz to 20 kHz |
| Dynamic Range | 33 to 121 dB (Class 2 / Type 2 version) |
| | |
| Parameters | Leq, L5, L10, L50, L90, L95, Lmax |
| Measurement Periods | 1, 5, 10, 15 or 30 minutes |
| Data Storage | 1 year (5 minute logging) |
| Web Based Storage | 2GB included |
| | |
| Enclosure | IP65 die-cast aluminium |
| Dimensions | 110 x 140 x 60 mm |
| Weight | < 800g |
| Mounting Holes | 4 x 5mm |
| | |
| Power | 9V DC, 500 mA |
| Operating Temperature | -10°C to 50°C |
| Humidity | 0 to 95% |
| | |
| Communications | HSPA / UMTS (3G), WiFi 802.11 b/g |
Computer Requirements
As the data handling and report generation is handled by a web server, the computer requirements are very basic. To view the reports online you need the following:
Access to the Internet (only low bandwidth needed)
Web Browser - Explorer, Firefox (Windows or Linux), Chrome, Safari - other standard browsers should work
If you want to download the measurements and work with them locally the we recommend using Excel or similar spreadsheet. The files are simple CSV text files that will load into many different applications.