EM2010 Wireless Environmental Noise Monitor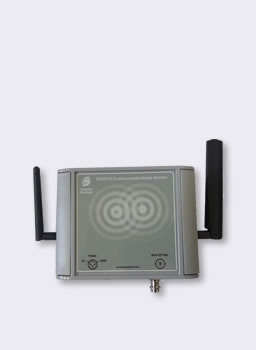 EM2010 Wireless Noise Monitor
Noise Measurements and Reports
The only tools you need to view the noise reports are:
Web Browser (e.g. Explorer, Firefox, Chrome, etc.)
Connection to the Internet
You can view the measurements, produce reports and download the data to your computer if you need a local copy. This can be done from anywhere, as long as you have a connection to the Internet and username/password.
Monitors, Projects and Guests
Your online account can handle multiple noise monitors. If you have more than one EM2010 (fixed, mobile or mixed) they will all upload their measurements to the same account for easier measurement management.
You can configure multiple projects within the account and assign monitors to these projects. The reporting system is designed to deal with anything from a single noise monitor to multiple monitoring sites.
Guests can be added to your account and given access just to the projects that are of interest to them.
Noise Charts
Noise charts show the sound level changes over time. Plotting the LAeq, L90, L10 and Lmax, the chart on the right clearly shows the day and night time sound levels over a period of four days.
Charts can be printed or exported into PNG, JPEG, PDF or vector format.
Graph of Sound Levels over Time
Calendar View - Daily Noise Summary
A calendar view gives a summary of the average sound level (LAeq) for the period of interest each day. It clearly indicates if the limit has been exceeded on that day. Zoom the image on the right for a clearer view.
Clicking on a day provides a more detailed overview, including the noise limit times and a convenient link through to the sound level charts and noise tables.
Calendar View of Sound Level Summaries
Noise Tables
Results can also be presented on-screen in a simple tabular format.
As with the Noise Chart display, you can select the dates for the chart and, if you have multiple noise monitors, you can select which one to view.
These tables can be exported for custom analysis.
Table of Sound Levels
Alerts and Notifications
For noise compliance monitoring it can be essential to know about any problems as they occur, rather than looking at a report a few days later. The EM2010 noise monitors and reporting system can be configured to send you a text message or an email alert when an LAeq limit has been exceeded.
Setting the Limits for Automatic Alerts
Exported Noise Measurements
The noise charts can be exported to the standard PNG, JPEG and PDF formats for inclusion in any custom reports generated in a word processor or similar application.
Tabular reports can be exported to the standard CSV format, which can be loaded into Excel or many other programs for further analysis and reporting.
In this example we have taken the exported data and created a couple of custom graphs of the sound level over time. This is easy to do in a spreadsheet and makes it possible to create custom reports if needed.
Example of File Formatted in Excel
---
Download Sample Data - Excel File (65kB)
Right-Click and select Save As option