EM2010 Wireless Environmental Noise Monitor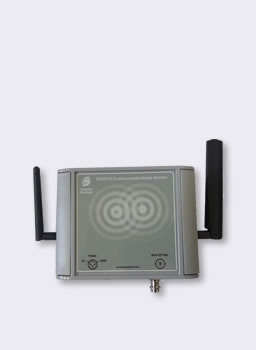 EM2010 Wireless Noise Monitor
Noise Monitor Installation
The standard EM2010 includes the parts you need to mount the noise processor indoors, with the microphone mounted outside. You will need to provide the brackets to mount the microphone. Parts are available on the Options page for mounting the processor outdoors.
If you need to relocate the monitor on a regular basis or are monitoring in an area with no power available then please have a look at the Portable Noise Monitor.
Installing the Processor Indoors
This method involves mounting the processor unit indoors with a cable running outside to the microphone. This provides security for the processor and protects it against the weather for long term monitoring. In this case no additional enclosure is needed for the processor.
The noise processor should be mounted within 3m of the microphone, if you choose to use the standard microphone cable. Otherwise, this can be extended to up to 10m using standard RG-174 coaxial cable.
The processor also needs power. It is supplied with a power supply unit, similar to that used for a laptop computer.
Removing the panel at either side reveals the screw holes for mounting the processor. It can be mounted to almost any surface using suitable screws.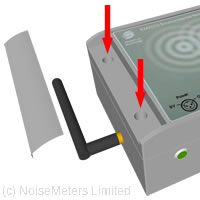 The two antennas (one for GSM connection and the other for direct WiFi connection) are attached to the noise processor box, so there is no need to make separate mounting arrangements for them.
The only connections to the processor are for power and the microphone.
Installing the Processor Outdoors
For long term outdoor use we recommend mounting the processor and its power supply inside a weatherproof enclosure. This provides double protection for the processor and also provides protection for the power supply unit.
With the EMENC option, the noise processor is supplied in a suitable weatherproof enclosure, which can be wall mounted or mast mounted with the EMENCPOLE option.
Please see the Options page for more information and prices.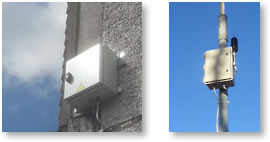 Mounting Noise Processor Outside
Installing the Microphone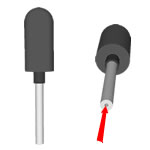 The Outdoor Microphone assembly is supplied on a rod (shown on the right). At the base of the rod is a standard thread for mounting on a tripod, mast or wall-bracket. To operate correctly and for the rain-shield to protect the microphone, it should be mounted vertically.
The EM2010 is provided with a 3m microphone cable. This can be extended up to 10m using RG-174 coaxial cable.
The EMENC outdoor enclosure option also includes a 1.5m mast for mounting the microphone.
Typical Installations
Here are some existing installations, showing a few different techniques for mounting the microphone assembly and some additional outdoor protection for the processor.