EM2010 Wireless Environmental Noise Monitor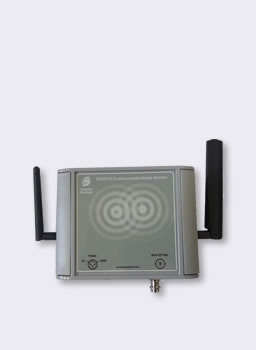 EM2010 Wireless Noise Monitor
Connection
The EM2010 connects to the Internet over the mobile phone network (GSM / 3G) but also includes a WiFi connection for on-site setting up and diagnostics.
Automatically connects and uploads measurements
Connection over GSM / 3G link
Works in most countries straight from the box (mobile signal required)
Connection, modem and SIM included in the package
Do I Need a Phone Contract?
No, the EM2010 comes complete and ready to go, as long as it is in a region with a mobile phone signal. The price includes the modem (built in to the noise processor box) and SIM.
The price for the EM2010/G also includes the first year of your contract, which covers the use of the installed SIM (no extra data charges) and access to the web server to view the reports. After the first year, the cost to renew this contract is just $1273.00 per year, or $3046.00 per year if you have the Audio Recording option. To protect against inflation we can provide you with a multi-year contract from the start, otherwise renewing can be carried out when the time comes.
How It Works
The EM2010 logs the noise measurements throughout the day, usually storing the Leq and the L90 (along with a few other parameters) every five minutes. The monitor connects to the Internet every 15 minutes using the built-in modem and antenna and sends the latest measurements to the server.
To view measurements from the previous days, weeks, months, you just need access to the Internet and a standard web browser. You navigate to the data access web site and log in.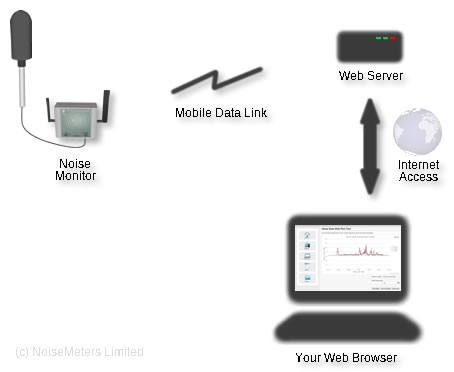 For more information on the presentation of the noise measurements, please visit our Reports page.
WiFi Connection
The EM2010 noise monitor also has a WiFi connection available. This provides an easy on-site interface, which is used for configuring and calibrating. The monitor provides its own WiFi hotspot. Connection to it is similar to connecting to a router and you then use a standard web browser. The benefit is that you don't have to open boxes to get access to the unit during servicing and on-site configuration.