HAVi - Hand Arm Vibration Monitor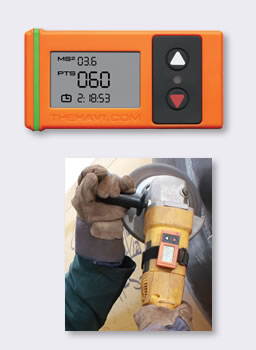 Using the HAVi
The HAVi is used to help you assess the level of vibration that workers are exposed to when using various power tools. The exact details of a full HAVS risk assessment may vary, but in general consists of:
Find the vibration magnitude figure for each tool
Find out how long the tool is used for
Calculate the worker's total exposure (based on magnitude and time)
The HAVi makes this process easier and more accurate by measuring the length of time the tool is used for and by calculating the total exposure, even providing you with the HSE points that are used for the risk assessment decisions.
Setup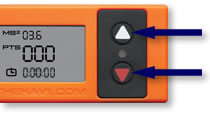 The amount of vibration produced by the tool must be known. This is provided by the manufacturer or, especially with tools that vary considerably with different materials, can be measured using a Vibration Meter.
Set the m/s2 figure for the tool using the buttons on the front of the HAVi.
Attach to Tool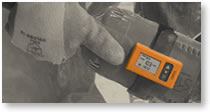 The HAVi is attached to the tool using the velcro strap or ties that are supplied in the kit. It needs to be firmly attached, but this is not as critical as when using a Vibration Meter - the HAVi detects the vibration of the tool but is not measuring it.
The HAVi can be moved between tools to follow the worker, or can be left attached to one tool to avoid having to re-enter the vibration magnitude figure.
Readings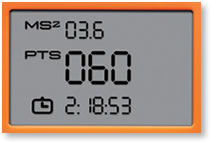 The HAVi senses the tool operating. It starts and stops automatically, recording the length of time the tool is in use (trigger time), and calculating the total vibration exposure. This is displayed as HSE points.
The monitor also has a warning light that flashes amber when the Exposure Action Level (EAV = 100 points) is exceeded and red when the Exposure Limit Value (ELV = 400 points) is exceeded.