VEXO GA2006H Hand Arm Vibration Meter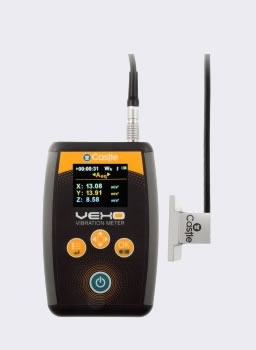 Hand Arm Vibration Meter
Specifications
The VEXO Hand Arm Vibration Meter meets the strict standards that are required by the hand arm vibration regulations.
ISO 8041:2005 Human response to vibration - Measuring instrumentation
ISO 5349:2001 Mechanical Vibration - Guidelines for Measurement
The ISO 8041 standard defines the required performance for a meter that measures the human response to vibration.
The ISO 5349 standard defines the ways to measure and evaluate human exposure to hand-transmitted vibration.
| | |
| --- | --- |
| Level Ranges | |
| Low: | 0.05 to 200 m/s2 |
| | 0.005 to 20.4 g |
| High: | 0.5 to 2000 m/s2 |
| | 0.5 to 204 g |
| | |
| Channels | One |
| | |
| Parameters | |
| Acceleration: | Arms, Aeq, Amax, Peak, Vector Sum, |
| | Exposure Points |
| | |
| Linear Range | 72 dB |
| | |
| Freq. Weighting | WH - Hand Arm Filter |
| | |
| Memory | Flash memory |
| | Up to 992 recordings |
| | |
| Transducer | KD1010, 10 mV/g |
| | |
| Noise Floor | |
| Low Range: | < 0.002 m/s2 |
| High Range: | < 0.020 m/s2 |
| | |
| --- | --- |
| Display | Color graphic OLED 160 x 128 |
| | |
| Batteries | NiMH re-chargeable cell pack |
| | Typically 10 hours continuous use |
| | |
| Connections | |
| Input: | 5 pin Lemo socket |
| AC Output: | 4 pole 3.5mm jack socket |
| Download: | USB Micro B (cable included) |
| Recharge: | DC socket (charger & cable included) |
| | |
| Environmental | |
| Temperature: | -10°C to +50°C |
| Humidity: | Up to 90% RH non-condensing |
| | |
| Electromagnetic | SI 2005/281, 2004/108/EC |
| | |
| Case | High impact ABS plastic with |
| | tactile membrane keypad |