VEXO GA2006H Hand Arm Vibration Meter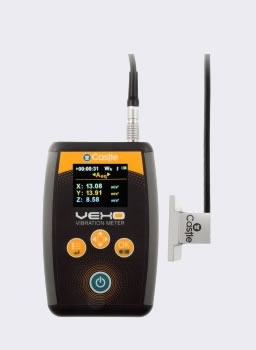 Hand Arm Vibration Meter
Hand Arm Vibration Software
The VEXO Hand Arm Vibration Meter is supplied with the Vibdata Lite program, which can be used to download measurements and present vibration reports.
Download vibration measurements from the meter
Connects via standard USB cable (included)
Custom tables and reports
Long-term storage of vibration measurement results
Color coding for high levels of vibration
Although software is not needed to operate the VEXO vibration meter - you can read the measurements from the meter's display - it is useful to download the measurements for further analysis and storage of your records as required by the regulations.
Vibration Reports
Once downloaded, your vibration measurements can be displayed on-screen as shown above, with high vibration levels indicated in orange and red. The thresholds for these colors can be changed, but are usually aligned with the regulations.
Use the Print option to generate a report for your files.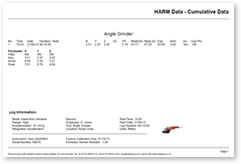 Typical Hand Arm Vibration Report