VEXO GA2006H Hand Arm Vibration Meter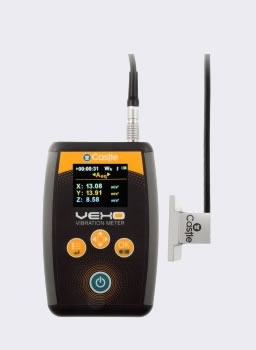 Hand Arm Vibration Meter
HAV Applications
The VEXO GA2006H is a hand-held meter for measuring the levels of vibration that can be transmitted to the hand from power tools and related machinery.
Measure the vibration from:
Power drills
Jigsaws, chain saws and other power saws
Grinders and sanders
Mowers, strimmers, brush cutters and hedge trimmers
Pneumatic power tools
Concrete breakers
It is fully compliant with ISO 8041:2005, the standard that specifies the performance and tolerance limits for instruments used to assess the human response to vibration. It is also the correct grade of meter for making measurements to ISO 5349:2001, the standard for the measurement and evaluation of human exposure to vibration transmitted to the hand.
The VEXO is suitable for use with almost any hand-held or hand-controlled power tool that risks transmitting vibration to the operator's hand. The tri-axial transducer is mounted to the hand-grip using ties or jubilee style clips, so as long as there is a suitable mounting point the rest is easy. As a hand-held power tool usually has some form of hand-grip there should always be a suitable mounting point for the tri-axial accelerometer.