Guardian Environmental Monitor - Noise, Dust, Vibration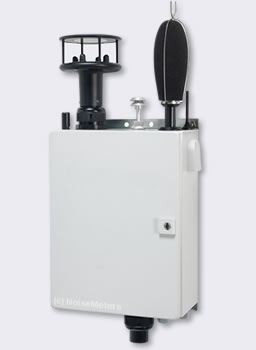 Guardian Environmental Monitor
Noise, Dust and Vibration Options
Sensors
The Guardian can be supplied with any selection of the following sensors:
Noise
An outdoor Type 1 Microphone is fitted along with a calibrated Type 1 sound level meter. These meet the standards required by most environmental noise regulations and guidelines. The sound level meter module provides the environmental noise parameters such as periodic LAeq, LAFmax, L10, L90, over a measurement range of 20 to 140 dB(A).
The microphone can be mounted on the Guardian box (shown in image) or there is an optional extension kit to mount to a mast or tripod.
Dust / Particulate
The particulate or dust monitoring option takes simultaneous, real-time measurements of PM10, PM2.5 and PM1.0 to a sensitivity of 1µg/m3. The inlet is heated to reduce moisture, with a particulate outlet at the bottom of the enclosure.
Ground Vibration
A triaxial geophone measures the ground vibration within the range 2 Hz to 250 Hz.
The ground vibration sensor comes with a 25m extension cable so it can be mounted securely to a suitable surface.
Mixing Sensors
We can supply the Guardian with any mixture of the above sensors. For example, if you just need to measure the sound level then just have the Noise option. For a construction site boundary, you may be interested in just noise and dust monitoring. The sensors that you select will be fitted in the factory, so there is very little self-assembly to carry out during installation.
Wind Speed and Direction
Once you have selected the main sensors that you need (noise, dust, vibration), you can also add the wind speed and direction sensor. This is particularly useful for dust monitoring and for noise monitoring, where higher wind speeds can increase the background noise considerably.