Guardian Environmental Monitor - Noise, Dust, Vibration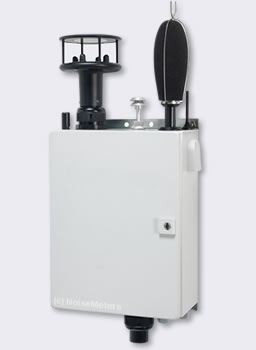 Guardian Environmental Monitor
Noise, Dust and Vibration Options
Reports
The Guardian Environmental Monitor sends all its measurements to secure Cloud servers, so the reports can be generated and presented via a web browser. Reports can also be automatically emailed to specified recipients.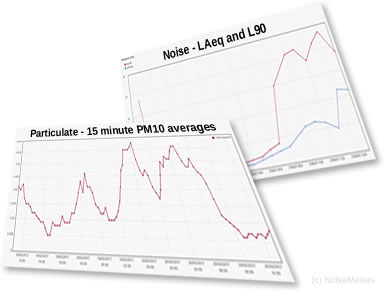 Typical Noise and Particulate Charts
Users
The system administrator can create multiple users with different levels of access to the system. Users can be configured to just receive reports, or they can be given access to create reports of their own, from the data and monitors that they have been given access to.
Typical Reports
The first stage is to create a new report, selecting how often it runs (daily, weekly, monthly), and which users are to receive it. You then select the type of report (chart, table, etc), which monitor and which data channels (noise, dust, vibration) to include. The report will now run automatically when the data is available.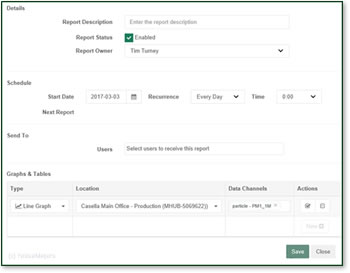 Report Configuration - A chart of PM10 readings every minute, report generated every day
You can view reports in a web browser, or they can be sent automatically by email as they come available.
Alerts
Two types of alerts exist:
Based on a measured parameter (noise, dust, vibration) exceeding a preset level.
Errors - power loss or communication failure.
Alerts can be sent to multiple recipients by email or text.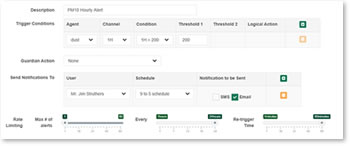 Alert Configuration - Based on PM10 Particulate Levels in One Hour