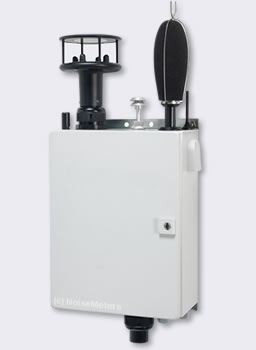 Guardian Environmental Monitor
Noise, Dust and Vibration Options
Installation
The Guardian Environmental Monitor is delivered with the selected sensors already configured and, where possible, fitted to the enclosure. It does not need a specialist installation team and in many environments can be installed by a single person.
For a standard installation it just needs mounting on a wall or pole and power applied.
The microphone, dust particulate inlet and wind sensor are mounted on the top of the box, while the vibration sensor comes with a 80ft (25m) extension cable to allow secure mounting to a suitable, solid surface.
Power
The Guardian can be powered by 110 VAC or 240 VAC. It is supplied with a 110V cable as standard (colored blue). It can be optionally provided with a 240V (colored yellow) cable with a standard plug.
To connect up, the power cable is run through a gland to the outside world and the plug fitted.
Data Connection
The monitor is delivered with the data connection configured and active, so there is nothing extra needed here. For more information visit the Connection page.
Three wires extend from the main enclosure, two for the mobile data antennas and one for the GPS antenna. The antennas have magnetic bases and can be mounted to the main box or higher for better connection.