CEL246 Data Logging Integrating Sound Level Meter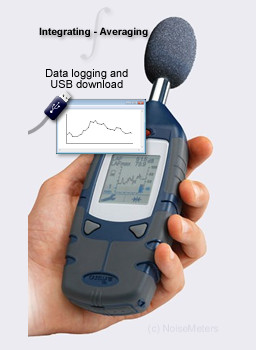 CEL246 Sound Level Meter
Noise Software
The CEL246 can store the sound level at a rate from 1 second to 10 seconds, along with a summary of the measurement and the average Lavg or Leq. When downloaded to a computer this information can be used to produce a graph of the sound level over time.
There are three software options for the CEL246, with the most basic one being included free of charge with the meter.
CasellaDrive - Free of charge

Downloads to comma separated variable (CSV) file
Read files into Excel or similar software

NoiseMeters Applications - $92.00

View measurements in a web browser
Easily produce, print and save detailed reports

dB24 Display Software - $74.00

Show the sound levels in real-time on a computer screen
Store the sound level every second on computer
---
Casella Drive Software
This is available for free download with this meter. It connects to the sound level meter and presents the measurements in simple CSV files. The measurements can be copied to your hard drive for long term storage and can be loaded directly into Excel or similar spreadsheet program. More information...
---

NoiseMeters Applications
NoiseMeters Applications
The web based NoiseMeters Applications runs in your browser to produce noise reports from the measurements made with your CEL246 sound level meter. A small sync program runs on your computer and uploads the measurements to the web server. You simply login to view your reports.
To receive NoiseMeters Applications add NMAPPS to your order.
If you are unsure then you can purchase it at a later date. All we need is the serial number from your meter to register it online.
Visit the NoiseMeters Applications web site...
---
dB24 Software
This small application displays the sound level in real-time on your computer screen. It can also store the sound level to disk every second.
This software can be useful for continuous noise monitoring where long term records are needed.