CEL246 Data Logging Integrating Sound Level Meter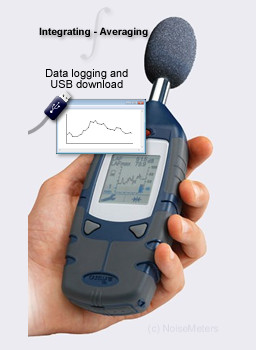 CEL246 Sound Level Meter
Applications
The CEL246 Data Logging, Integrating Sound Level Meter is predominantly intended for the measurement of occupational noise, although it is suitable for many other applications too.
Occupational Noise - Noise in the Workplace
When noise levels are not stable, as is usually the case with noise in the workplace, it can be very difficult to work out the average by eye. The CEL246 is an integrating sound level meter and so provides you with an average as recommended by many regulations: for OSHA in the USA you would use the Lavg; for many other regulations including the EU and much of Canada you would use the Leq.
The CEL 244 can be switched between "A" and "C" frequency weighting. These measurements can be used to assess the effectiveness of hearing protection using the HML method.
Loud Bangs?
For environments with very loud banging noises you should use a meter that provide Peak measurements too, such as the CEL620.
Data Logging
The data logging facility means you can leave the meter running for a longer period of time, download the measurement and then identify the noisier times of day and assess a worker's noise exposure by calculating the TWA.
System Integration
As system intgration via the USB interface can be complex, the CEL246 has an AC output and an optional (free of charge) DC output, making it ideal for connection to a data logging system via a suitable A/D converter.
Environmental and Community Noise
As an Integrating meter, the CEL246 is acceptable for some environmental noise assessments. However, some regulations and authorities demand the use of a more accurate Type 1 sound level meter.
For suitable environmental noise monitoring solutions please visit our Environmental Noise Page.