June 2014 Newsletter
NoiseMeters Applications Version 2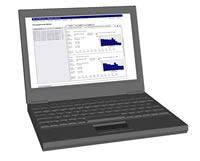 Our popular web based NoiseMeters Applications have been upgrade to v2, adding the following facilities:
Additional noise reports
Easy creation of multiple accounts
Windows sync application for uploading measurements
The price for NoiseMeters Applications remains at $92.00 despite the additional reporting.
For more information about these web based applications please visit the NoiseMeters Applications web site or drop us an email to info@noisemeters.com.
What Is NoiseMeters Applications?
NoiseMeters Applications is a web based (runs in your browser) system that takes measurements from your sound level meter, carries out analysis and presents reports. It currently supports the following meters:
CEL620A Integrating Sound Level Meter
CEL620B Octave Band Sound Level Meter
Support for the CEL242 Sound Level Meter and the CEL246 Integrating Sound Level Meter is to be added by the end of 2014.
Noise Reports
Once measurements have been transferred from your meter, NoiseMeters Applications can produce a number of reports:
Occupational noise, including:

Noise Exposure TWA and LEP,d
Hearing Protector Assessments

Indoor noise evaluation

Noise Rating Curves (NR Curves)
Noise Criteria Curves (NC Curves)