January 2015 Newsletter
NoiseMeters Applications for CEL242 and CEL246 Meters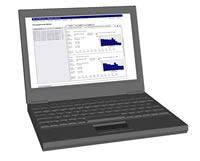 NoiseMeters Applications
Our web based noise analysis and reporting system, NoiseMeters Applications, is now available for the CEL24x series data logging sound level meters.
The meters now supported are:
CEL242 Logging Sound Level Meter
CEL246 Logging Integrating Sound Level Meter
CEL620A Integrating Sound Level Meter
CEL620B Octave Band Sound Level Meter
For more information about these applications please email info@noisemeters.com or visit the NoiseMeters Applications web site.
NoiseMeters Applications
These are web based applications that run in your browser. Measurements are transferred from your CEL24x or CEL62x series sound level meter to our web server, so you can use a browser to view the results, carry out analysis and produce reports.
The reports generated can be printed, saved or stored on your computer for future reference.
The reports shown here were from measurements made by a CEL246 Integrating Sound Level Meter.