Web Site for Mobile Browsers - Newsletter - May 2010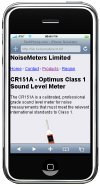 Mobile Web Site
For those of you who regularly use a mobile device to browse the Internet, we have just launched our NoiseMeters Mobile Web Site.
Our new site is optimized for speed and for viewing on a smaller screen.
noisemeters.mobi
(best viewed on a mobile device)
The mobile site provides information and prices for all our main products. Small images of all the products are included, but otherwise there are no bandwidth wasting pictures and logos.
You can place an order directly from your mobile, with options for payment by credit card or invoice.
---
Why a Mobile Site?
While our main web sites are also optimized for speed, they present a huge amount of information about the sound level meters and noise dosimeters that we offer. These large sites can be difficult to navigate on a cell phone, PDA or other mobile device. Things get even worse if you are working over a slow connection or one that is billed based on throughput.
For our mobile site we have completed the following:
Simplified navigation
Reduced the amount of information for each product
Only included essential optimized graphics
Optimized the page code to make it quick to load
Set a flexible page size to fit any mobile browser