Rental of Data Logging Type 2 Sound Level Meter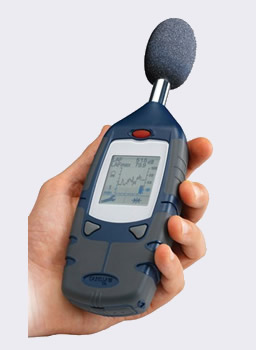 This data logging sound level meter is available for rental over a period of one week or more and is suitable for the following applications:
Basic noise surveys
Occupational noise assessments
Meter features:
Stores measurements for download to computer
Standards: ANSI S1.4 Type 2
Measures Fast or Slow Sound Level
Rental Kit Includes:
Sound Level Meter and Calibrator
Calibration Certificates
Software for noise reporting
Availability and Booking
Start Date

Rental Period

Rental Price Includes
Delivery to your premises
Shipping outside the rental period

If you book the equipment for seven days then you have it on site for seven full days.

If your rental starts on a Monday then we will ship the equipment to arrive on the Friday before the weekend.

Technical support and advice
Transit insurance

We cover any loss or damage to the rental equipment while we ship it to your premises and the same on return if we arrange the collection.
Info
Applications
Using It
Specifications
Overview
This data logging sound level meter is ideal for basic noise surveys when you want to download the measurements. It measures both "A" and "C" weighted sound level with either Fast or Slow time weighting.
Measurements can be downloaded to a computer in CSV format for loading into Excel or similar spreadsheet. They can also be transferred to NoiseMeters Applications for occupational noise reports.
Standards
This meter is calibrated to ANSI S1.4 Type 2, as is the Sound Level Calibrator that is included in the kit. Calibration certificates are included for your records.
Typical applications for the CEL242 Sound Level Meter are:
Basic occupational noise assessment*
Office noise levels
General noise measurement
*Occupational Noise Assessments
For any applications that may have impulsive or loud banging noise we recommend you use a sound level meter with Peak measurements, such as the CEL620B2.
Switch On
Press the red button to switch the meter on. It starts measuring straight away.
The meter is powered by standard AA batteries (included in the rental kit).
Calibrate
Some regulations demand the function of the meter is checked first.
Place the Calibrator over the mic and select Calibrate from the menu.
Measure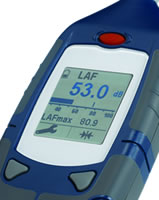 Start the measurement and read the sound level from the display.
A reset button is used to clear the maximum sound level.
CEL242 Sound Level Meter
| | |
| --- | --- |
| Standards | ANSI S1.4 Type 2 |
| | IEC61672 Class 2 |
| Meas. Ranges | 30 to 100 and 60 to 130 dB |
| Time Weightings | Fast, Slow, Impulse |
| Freq. Weightings | A and C |
| | |
| | |
| | |
| --- | --- |
| Dimensions | 72 x 212 x 31mm, 245g |
| Tripod Mount | 1/4" socket |
| Battery Power | 3 x AA Alkaline for > 35 hours |
| | 5V via USB Mini B socket |
| Environment | RH 5 to 90% non condensing |
| | Temperature: 0 to 40°C |
| | |