Noise Warning Sign - SoundEar Classic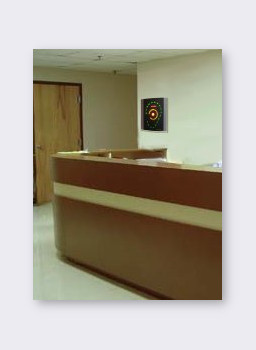 Noise at the Nurses Station and Corridor
Noise in Hospitals
The Noise Warning Sign has proved very popular for use on hospital wards, reminding people to be quiet in the usual locations:
Nurses station
Corridors close to wards
Noise on the hospital ward
Ward entrances and exits
These signs are commonly used within NICU and neonatal wards, as well as on other general and intensive care units to remind not just the visitors but also the staff and patients to keep their noise levels down.
The mere existence of the noise warning sign in an obvious location is often enough to remind people about the area's sensitivity to noise.
Please also visit our Noise in Hospitals and Medical Centers web site.
Why a Noise Warning Sign
Other than important alarms, there is usually no need for excessive noise on a hospital ward. It is usually caused by visitors and sometimes staff talking louder than necessary or people being careless when moving medical equipment or patients between wards.
The SoundEar is a clear and simple reminder to keep the noise levels down and if you forget it lights up to remind you.
Using the Noise Warning Sign in a Hospital
The perfect location for a sign depends on the layout and the acoustics of the area in question. The most important aspect of the SoundEar is that it reminds people to keep the level down, so it is best to mount them where they are clearly visible to anybody entering the room or area. Often the Nurses Station is a good place to position one unit as this is usually in view to any body visiting and also to constantly remind the staff.

There is no simple rule about the level at which the sign should light up. Hospital rooms and areas have different ambient noise levels and different acceptable limits. An intensive care unit will have a much lower noise threshold than a busy ward dealing with less critical illnesses. The best way to find the comfortable limit for a ward it to set the sign up to 55 dB (using the dial on the back). Run the sign for a few hours, or even a few days, and get a feel for whether it is being too sensitive for the given environment or whether it is letting people get away with too much. Adjust up or down by 5 dB as needed.
A level of 45 to 55 dB is common for neonatal and intensive care areas and 50 to 60 dB is common for other areas, although it does depend a lot on the acoustics of the areas in question.